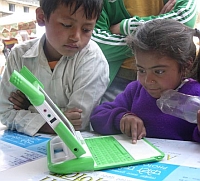 The One Laptop Per Child project has been something that we have been watching with great interest at Carson's Post. The $100 laptop (which actually costs $175 due to the limited production) programme has developed a machine that could be really exciting for education in the developing world. Dan Mclean at the Globe and Mail asks: why only the developing world? Why doesn't Canada invest in this programme?
Rolling out several million units of the XO across Canada or the UK would change the face of education. Textbooks and school work would be electronic reducing the cost of materials, and increasing students comfort with IT.
The XO computer unit is only a part of the thinking behind the programme. As interesting is the mentality of the design. The XO was developed to be "figured out" by children rather than taught. Carla Gomez Monroy, Learning Consultant for OLPC, worked with students in Nigeria at a school where the unit was rolled out:
One day in class, children were using eToys (a programming software) to work on math concepts while doing animations. Children that had tried it before were reseated in between children that had never worked with eToys. Then the teacher explained how to start, step by step. It was more effective to have children helping children than paying attention to the teacher. But, since there were so many children, both methods were used to go faster and get to the animation (math logic) part faster and do it all together. However, once children start facilitating you can't stop them. So, after 15 minutes, some children had animations with persons turning round and round, while making frog noises here and there, and then after 30 minutes, there was a whole pond of croaking frogs.
This is a clear break from my Computer Studies classes when I was growing up (I think we were taught BASIC). This self-teaching philosophy makes learning more engaging and more interactive. It also makes it more fun. Bilel Jamoussi, director of strategic standards for Nortel Networks, as quoted in the Globe and Mail:
"It's learning how to learn," he said. "Students teach each other [with the XO] and the technology creates a completely different dynamic in the classroom. The teacher observes what the kids are doing with the device, rather than formally instructing them how to use it."
Dan Mclean looks at the XO's benefits in Canada:
Everybody, and especially businesses, should be interested in seeing the next generation having the finest of tech-savvy and collaborative skills. One laptop per child – particularly a device that allows kids to learn by doing – is definitely a worthwhile initiative

At a cost of $100 and in a nation where thousands of dollars are spent on education for every child, it seems practical for every child in Canada to have an XO. Perhaps every business and government in the country should find out more about the OLPC program and do what it can to put this sort of self-learning technology in the hands of the future generation, including Canadian children.
So the question remains, why does Nigeria get all the fun?